While I was in N.Y.C. I made my usual pilgrimage to the Metropolitan Museum of Art. This time, however, I took one of my favorite books along, From the Mixed-Up Files of Mrs. Basil E. Frankweiler by E. L. Konigsburg.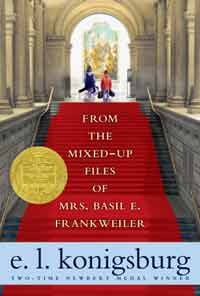 I had always wanted to read this book while inside the museum and this was my chance. As I would wander through each section of the museum I would find quaint little corners to sit and read in, such as the Egyptian section
and the roof top garden.
It was truly the perfect way to mix two of my favorite activities, reading and art, together.
If you haven't read the book and are wondering why I would be reading a book while I was inside a museum, here's why:
12 year old Caludia Kincaid is sick of the monotony of her life, the unfair amount of chores, her limited T.V. time, and her low allowance.
Claudia decides to run away from her home to some place beautiful, comforatble, and indoors. Being the organizer that she is, she crafts together a masterplan to escape to the Metropolitan Museum of Art, while convincing her little brother Jamie to come with her.
The story unfolds and tells of their big adventure, of how they lived undetected for a whloe week inside the museum. while there, they took the opportunity to learn new things. While discovering each section of the museum, they run across a new exhibit housing a marble angel thought to be from the hands of Michelangelo, the famous italian painter and sculptor.
Caludia and Jaime decide to figure out the mystery of the statue before retuning home, that is if their money will hold out. Using the last of their finances they locate the previous owner of the statue Mrs. Basil E. Frankweiler, who also happens to be the narrator of this classic tale as well. After much negotiation between Mrs. Frankweiler and the children, a deal is reached and the true craftsman of the statue is uncovered.
This book won the Newbery Medal in 1968 and its no wonder why. Each time I would wander into a new section of the museum I would wonder where I would hide if I decided to live in the museum. Unfortunately all good things must come to an end as did my time with this favorite read and looking at some of the greatest art in the world.
If you were going to live in a museum, where would you make your home?
To find out more about what inspired this book have a look at the Metropolitan Museum of Arts "From the Mixed-up Files of Mrs. Basil E. Frankweiler brochure.
Something To Do:
 We've decided to go through the Metropolitan Museum Map section by section to study the art and it's masters, as well as, create our own. First up, we have a small fascination with stained glass. For this project we made our own stain glass windows using a fantastic child friendly stain-glass kit. There are many time periods and styles of kits from this company and it is a wonderful way to spend an afternoon. Constructing real stain glass uses some very dangerous elements such as glass, and hot irons. There are many ways to make child friendly stained-glass and the fun we had in researching the project was fantastic as well. Next we'll be moving onto sculpting but before we do I just have to say that this book is a such a great of incorporating art into our every day lives. It was so fun to re-visit this book from inside the museum and then to share that experience with the kids. Enjoy and Happy Reading. Oh and remember, there's just a couple more days left in our Kate Di Camillo Giveaway. Be sure to join us.